Exchange Online Integration with Office 365, SharePoint and 150+
Microsoft Exchange Server data (on-premise or Outlook in the Microsoft Office 365 Cloud) can be integrated and synchronized codeless with various other data sources using the Layer2 Cloud Connector via the Layer2 Data Provider for Exchange. Please take a look here for supported systems and applications.​​​​​​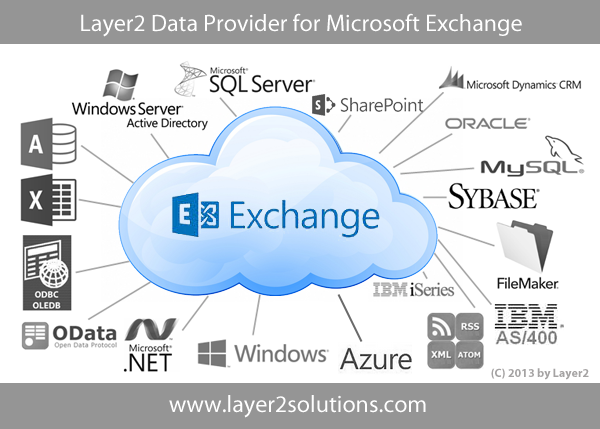 To connect to Microsoft Exchange Server or Exchange Online / Outlook data like contacts, calendar data, tasks, emails and notes the data source entity must be configured as follows in the Layer2 Cloud Connector Connection Manager: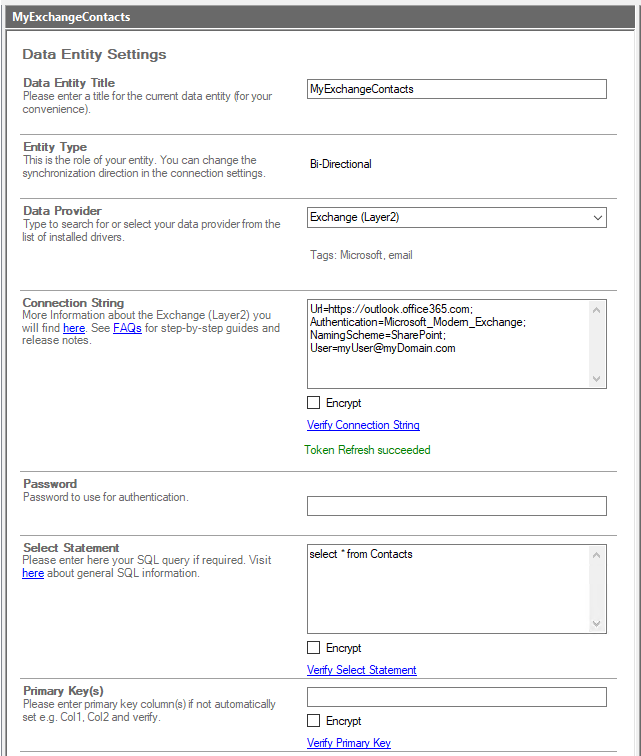 Fig.: Sample connection configuration to connect to Exchange data.
Please verify the connection settings and display sample data in the data preview.
Exchange Integration And Synchronization Specific Settings
​Please note the following specific settings.
You can connect to both, Exchange on-premises or Exchange Online.
Select the Layer2 Data Provider for Exchange to connect. The provider is part of the Layer2 Cloud Connector ADO.NET provider package and should be already installed. You will find a specification of the Layer2 Data Provider for Exchange here.
You can use a connection string like this to connect: Url=https://outlook.office365.com; Authentication=Microsoft_Modern_Exchange; NamingScheme=SharePoint; User=myUser@myDomain.com.
Please see provider documentation for more.
If you have appropriate access rights, you can also connect to mailboxes of other users or site mailboxes. Please make use of the parameter email, e.g. email=SMO-MySiteName@tenant.onmicrosoft.com for a site mailbox bound to a site mySiteName.
If you are using impersonation to access different mailboxes, you will neeed to add the following to the connection string: Impersonation=true;
Several different authentication methods are generally supported. See provider specification linked above for more.
You can make use of specific data queries to select your data as supported by the data provider and source system. For any specification of supported queries see the provider documentation.
You can map your data fields to specific external fields in the Layer2 Cloud Connector. Please take care about data types (simple type conversions are supported).
No primary key should be given - the Exchange Item-ID is set automatically.
You can use the connection for uni- or bi-directional synchronization. In case of inserts (full CRUD) via external systems please take care of the primary key. Exchange-side IDs will not work in his case.
No installation or changes are required at the Exchange Server data source or data destination.
Data synchronization can be started manually in the Connection Manager, per command line or scheduled in background by the Layer2 Cloud Connector Windows Service. Only data changes are processed (no delete / bulk import).
No programming required for setup a connection and sync.
No need to open your local network for access from outside.
Layer2 Exchange Data Provider Known issues and limitations
Depending on provider version there are some known limitations and issues:
Calendar items: Single, Full-day, and block events are supported. Recurring events are currently not supported.
Contact items: Outlook aggregates contact information from several sources and can merge it for display. A contact synchronization manages information only as stored in Exchange Server (not in Outlook).
Email / inbox items: Attachments are not managed.
TimeZone fields are not supported.
Contact items: Contact Groups/Distribution lists are currently not supported.

Task items: Attachments are not managed. Dependencies are not managed.
Binary blobs are not supported, e.g. images.
User Defined Fields (e.g. added in Outlook) are not supported by the Layer2 Exchange Data Provider.

Depending on configuration and data amount performance of first sync can be slowly.
Please format multi-line text fields as text only, not HTML/RTF. Otherwise it possibly leads to recurring field updates on each sync. Will be fixed with next versions by providing an additional Body.Plaintext field.
Sub-fields like CompleteName.GivenName, CompleteName.SurName are read-only. In some cases there are related fields available for write like GivenName, or SurName. Unfortunately for CompleteName.Title and CompleteName.Suffix no related fields are available at this time.

Wildcards are not supported in scopes.
No recursive / traversal option.
Max item count is limited to 1000 items in Exchange by default. Please use e.g. Select Top 5000 from myScope to increase.
Documents in public folders are not synced.
Be careful with select *. In some cases large attachments can slow down performance and end up in timeouts.
The GAL cannot be synced using this provider.
Use Cases For Exchange Data Integration and Synchronization
Just some ideas:
Sync your enterprise data with Microsoft Exchange on-premises or Online for change notifications, contacts, tasks, calendar events, mobile access (BYOD) and offline availability on any device (e.g. tablets, phones).
Sync Exchange data with local SQL or SQL Azure for better reporting or business processes.
Sync with 3rd party tools like ERP/CRM/CMS based on SQL databases like Oracle, mySQL or Microsoft SQL Server.
Sync Exchange with Microsoft SharePoint or Office 365 for better collaboration (for example with customers or partners), for intranet publishing or search.
Aggregate calendar entries from Exchange to SharePoint, e.g. to better share vacations or meeting rooms.
Can't find what you are looking for? Please contact sales@layer2solutions.com for any help.